TRI has used VoIP for more than three years. That is telephony over the Internet. However, we just recently switched to Microsoft Lync. We have done away with telephones. We have cordless headsets connected to a base station connected to our desktop computers.
When away from the office, we can still use Lync on our home computers or laptop or Microsoft Surface with a headset wired or wireless. Some of the great features of Lync are:
Interoperability with Microsoft Outlook
Voice to text emails; that is an email is sent when a message is received that converts the voice message to text within an email.
Scheduled multi-party conference calling
Video conferencing
Online meetings
In-house instant messaging
Please know that TRI can help with the configuration of Lync.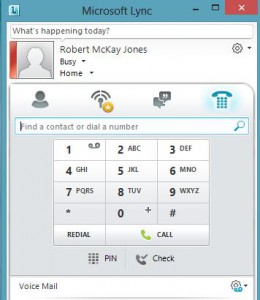 Microsoft details many of the features like this:
Microsoft Lync ushers in a new connected experience transforming every communication into an interaction that is more collaborative, engaging and accessible from nearly anywhere with an Internet connection. A single interface unites voice, IM, audio‐, video‐, and web‐conferencing into a richer, more contextual offering and a single identity makes it easier and more efficient for users to find contacts, check their availability and connect with them. Lync works consistently with Microsoft Office, enriching the experience of familiar applications like Microsoft Outlook, Microsoft Word, Microsoft SharePoint, and more.
Get More Done in Less Time. The powerful collaboration tools in Microsoft Lync help you get more done in less time, so you can be present where and when you need to be most.
Contacts Microsoft Lync makes it easy to keep all your contacts in one place, so you can communicate more easily. Contacts can be sorted by groups, presence status, and relationship.
Presence Microsoft Lync helps you stay connected, but it also gives you the flexibility to choose when and how you can be contacted.
Understanding Presence Lync provides an immediate, visual representation of a contact's availability, or presence. By simply looking at the contact list, you can find everything you need at a glance. For example, a green icon means a contact is available, red means a contact is busy, and yellow indicates that a contact is Away from the computer. Wherever a contact's name appears—in an e‐mail message or on a team site— status and contact information also is displayed. Presence information can be set by the contact manually, or selected based on available calendar information.
Changing your Presence Status Changing your presence status helps coworkers know when you are and aren't available. Presence is enhanced in Lync with pictures, location information, and additional states such as "Off Work" to provide more granular information about availability and communication preferences.
Instant Messaging Starting an instant messaging (IM) session is as simple as double‐clicking a contact name from your Contact List. This opens the Conversation window where you enter your IM and view responses from others.
Be at the Center of Your Network Microsoft Lync helps connect with your network of friends, colleagues and partners so you can stay in touch. It enables you to communicate with contacts from federated networks, including Windows Live, AOL, and Yahoo! And picture‐enhanced presence information, automatic contacts lists, and activity feeds let you add your personal touch.
Setting Your Location Microsoft Lync makes it easy to let others know where you are and how to reach you. Microsoft Lync can automatically determine your location when you login again from places you frequent. To set your location.
Conferencing Options Microsoft Lync offers robust conferencing options, including IM, audio‐, video‐, and web‐conferences giving you many collaboration tools to be more successful. Lync is all you need for all types of meetings, both scheduled and spontaneous. And simple "water‐cooler" IM conversations can be escalated to an audio conference with desktop sharing among members instantly, easily, and without interrupting the conversation flow. Plus, video conferencing with Lync you can integrate video into your conferences by using a webcam.