Whiteboard Mobile: Whiteboard Mobile is a web application that displays a whiteboard for you or your organization. You can use it as a note board, a task list, a list of goals or a list of affirmations. Use it as your default web page and it will display what you want to see every time you open your browser. Add to the list using an email sent to a special email address.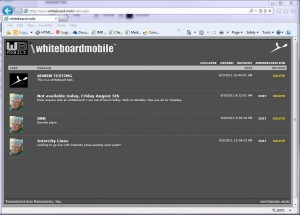 WhiteboardMobile is a unique and simple tool that lets you communicate and collaborate with your company, team or organization.
It all starts with a WBit (pronounced wee-bit) — White Board Information Ticket. It's a message short and sweet for all to see. Like, "Jim is on vacation the last week in July" or "Welcome ChemLabs August 3rd!" or "Office Party this Saturday – rain or shine"
Easy to post messages and even easier to view. Just send an email to msg@whiteboard.mobi and it will be securely posted to your whiteboard.
Just some of the features include — dates and times of all WBit's are recorded — — editing a WBit after you post it — — a WBit can only be deleted by the person who posted it or an administrator — — adjust your whiteboard to view headlines only — — automatic refresh every 30 seconds —
OrderTrack©: OrderTrack© is the service associated with our on-line logistics management system providing order tracking, purchase order management, load building, inventory control and billing for you and your customers. OrderTrack© .com is a Web based portal providing scalable SQL Server database capabilities over the Internet. It provides transaction viewing and processing anywhere in the world over the web. We can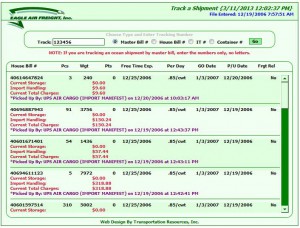 tie a custom OrderTrack© query page to your site. The way it works is… every day (or more often if you wish) you would refresh (upload) a file to the ordertrack.com web site, then the file gets imported into the online database. Once complete, the data becomes available to anyone you chose over the web. The whole point is that you can do this today – no hardware, no high speed Internet connectivity required. You can start this when you want and you can stop this when you want. No long term contract is necessary.
TriRate©: TriRate© is a growing body of rate management software ranging from the mundane task of rating to the complex task of tariff analysis and pricing. The application of these tools is up to you. You have the flexibility to make Trirate© fit your needs. If you need more power, sign up for additional tools. It is that easy. The TriRate© family of products sometimes requires customized rating logic to accommodate a carriers particular rating methodology. Transportation Resources frequently provides customized software development to permit carriers this flexibility. For example, instead of rating with a set per hundred weight, a carrier may be a distribution carrier and needs to automatically add a certain handling rate to every shipment. TriRate© can be programmed to handle that. Another example would be a carrier needing per unit rating instead of per hundred rate rating. TriRate© can be set up to handle that scenario also. Although it is necessary to have a functional rating engine, the backbone of the TriRate© software is it's ability to work with data, simply and effectively. We do not use complicated formula driven rating methodologies, we use zip codes and rates. This allows us to import and export rating data easily and accurately. Rating data used in the TriRate© series of software can be obtained by download or on CD in a number of formats including ASCII, comma separated value (CSV), fixed length and XML. Built on a proven back-plane of Microsoft SQL and ASP, TriRate© has the power to handle all your rate and tariff needs. When it comes to tariffs and rating systems, we can produce the results you need on your PC or on the Web.
Freight Accounting: Our Freight Accounting Systems are customized specifically to the needs of our clients. They are perfect for LTL trucking companies, air freight carriers, local and regional trucking companies, specialized carriers, brokers and freight forwarders.
TRICS© Inventory Control: Our Inventory Control Systems are customized specifically to the needs of our clients, both public and private warehousing yet based on proven functional components. They integrate with accounting systems like QuickBooks, Microsogt GreatPlains or Peachtree. Our Inventory Systems integrate with Freight Accounting for warehouses who also have a sister trucking company. Click here for an in depth look at the capabilities of our TRICS© inventory Control System.
iTrif©: We love technology and we love where technology is taking us. That is why we fell in love with the iPhone. They represent the best of the best. It is why we have chosen to develop applications specifically for the iPhone and the iTouch. We love the mobility, utility, ease-of-use, functionality and wide acceptance. It is why we developed iTrif.com dedicated to data integrated applications for the iPhone. Applications like time & billing-entry (we use this one ourselves), sales call summary, meeting request, expense log entry, lead follow-up memo, purchase order request, physical inventory.