Please consider our partners.  Don't hesitate to ask us questions:
Microsoft continues to be the very best option in cloud based email and Office Suite.  For a trial Office 365, click here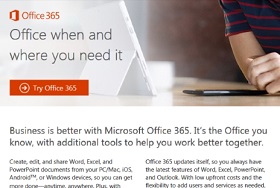 SyncBackPro V7
SyncBack is the best disk to disk copy software we have found. It has great reporting, works in background at scheduled times and has been flawless.  Great to make regular backups from one disk to another or from disk to network server or storage device.
We found PayPal to be the easiest and most flexible payment processing web portal. They are recognised as one of the premier payment portals world wide. Payments to trif.com can be made via PayPal:

We have moved most of our computing power off-site because we require reliability and redundancy. With a proven track record we strongly recommend Hivelocity for data center or colocation services.