What is in a Logo Anyway?
This past weekend using my favorite iPad App SketchClub, I digitally sketched rock columns with an eagle flying above the highest peak. After I was done, I thought it would be a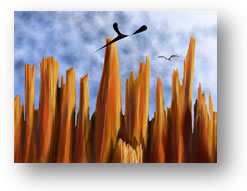 great place for our logo to fly as well. It made me think about logo's in general and what they can mean. So what does your logo say about your company? Interesting question which spurs different ideas in different people. To me, our logo symbolizes a great deal.
Although we have been in business for 30 years, our logo is only a few years old. I guess it took us 25 years to figure out what we stood for. Well, we certainly know that now and our logo has a lot to say.
For example, it is bird like flying, upwards which symbolizes soaring flight and being able to see the forest for the trees. It is sleek which implies that we are quick and be able to maneuver swiftly. If you look closely, you will see three dots, eyes if you will. These represent the three distinct specialties we combine into one company; design, development and support. Our logo also symbolizes movement. That is where we concentrate our resources; movement. It is the movement of people and things that takes up most of our attention. Where is that driver, where is that trailer, where is that carton, we build systems to know the answers to these questions and understand all the necessary components of why, when and how much. So when you look at our logo, I hope you see more now than before. What does your logo say?
By the way, you can see more of my digital sketches on SketchClub. You can also click here to look at other images of TRI.