The Kristoff Piggery was on land now owned by Massachusetts DCR, it was once the largest piggery in the Northeast. With almost 600 acres of land, every pork distributor on the east coast bought Kristoff pigs.  In fact, in the 1960's if you bought a Virginia ham there was an 80% chance it came from Sterling, Massachusetts. Open through the late 1970's,  the construction of Route 190 split the farm and the pigs were soon to vanish, The pigs were fed with local table scraps and waste picked up by the Kristoff garbage trucks, cooked in steam cookers and delivered to the pigs with farm vehicles. Few structures remain but DCR is creating a GPS walking tour of the property. An astute visitor can still find the old steam cookers. Please see my online store. The store allows you to have my photographs custom printed and framed. Friend me on Facebook, look at my blogs, or look me up on Flickr. Store is now open. Check out my profile on ImageBrief! Click to Shop.
In This Issue

Welcome to News from trif.com! First time readers, I am glad you're here! Returning readers, welcome back!

As always, we try to keep you up to date on the latest trends and issues that face us. Please keep in mind, I don't want to waste your time. Articles will contain generally less than 250 words. Please have a look and give me your feedback. If you want to see the Newsletter archives, there are more than 6-years available on our Newsletter page. Have a look and by all means, forward to a friend. Thanks. Questions? Send me an email!
Did you know we provide...
Mobile Driver Apps
Real-time Updates
with Signature Capture

Hacked I Was, Hacked!
Some of you may remember getting a phishing email from me on the morning of May 25th. Frankly, it could have been so much worse and it made me look at Internet security with fresh eyes. How did this happen? Who did it?  What was their motive? Where did the email originate? What application was used? Was one of my computers hacked? Was my online account hacked? So many questions, so few answers. Here is what I found and what I did.
What I Found: None of my computers had any malware. Four separate emails were sent from my Microsoft Outlook account. They are still in my sent folder. It went to all my contacts which were copied into the BCC. They all had my signature although not my logo. Not having my logo told me that they were sent from my online account, not from any of my computers. My computers have the little Trif logo in the signature, the online account does not. The emails were sent from my online account from an Internet Café in the United Kingdom. Someone hacked my username on microsoftonline.com. I am the admin on my domain's email. As such, whoever or whatever hacked my account also added a new email account and made some other changes to the Domain. I will never know who and I will never know all the changes that were made to the Domain
What I Did: I opened a case with Microsoft. They helped determine where the email originated, but they couldn't tell me much more than that. They did go over the best practices for managing accounts on Microsoft Exchange Online. There should be only one admin. Users should not be admins. The admin, administrator, master or whatever you want to call him should have an email at domain.onmicrosoft.com. That admin should have a super strong password. That user must have multi-factor authentication. That means that every time you log into Microsoft Online as the Administrator, you must have your mobile phone to receive a text with a 6-character authentication code. No login is permitted without access to your mobile phone.
As an aside, I also added multi-factor authentication to all my online accounts including Dropbox, Google, Yahoo, Facebook as well as all online banking sites including PayPal. I recommend you take the same steps. Let us know if you need assistance.
TRIF.COM
Technology Resources
Our capabilities bridge database design and development, Internet services, network and computer sales and support, document imaging, bar code scanning, corporate communications, fax and email programs, mobile applications, cloud computing and help desk services.
Interested in taking a step forward with technology? Looking to take advantage of the latest advances? Or just want to take advantage of your new computer?
Email me at rmj@trif.com The first consultation is always without charge.
Apple & Ikea Creating Virtual Furniture App

Coming this fall to an iPhone near you. Ikea and Apple are co-developing an Augmented Reality (AR) App that lets you try out furniture in your home before buying it, virtually of course.  Ikea has much of their inventory documented with 3D models. Cleverly combine those 3D models with an image on your iPhone and you just might be able to see what that new daybed will look like in that guest room you have. You will see more and more of these AR-based applications that allow users to connect things unowned with things and places owned. The goal of course is visualization transitioning seamlessly to buying. Play with the App as you would a video game putting furniture into your reality and when you are content, click buy and a couple of days later your vision will become a reality.
This is just one of the offshoots of Apple building a multi-billion dollar campus in Cupertino, see photo by Dan Winters.  See more in this Wired article.
Amazon buys Whole Foods
Amazon announced an agreement to acquire Whole Foods, the leading natural and organic foods supermarket. Amazon will pay $42 per share in an all-cash transaction, a 28% premium to Whole Foods' last closing price. The deal values Whole Foods at $13.7 billion, inclusive of Whole Foods net debt. Whole Foods' co-founder and current CEO, John Mackey, will remain as CEO of Whole Foods and will continue to operate its 460 stores under the Whole Foods Market brand.
This is about more than food.  It is about logistics. Whole Foods 460 stores are in some of the most affluent zip codes in America. Amazon was able to ship food from about 20 base points. Soon, they will have 460 more base points. Although the purchase of Whole Foods does not resolve the issue of getting food to your door, it moves it a lot closer.
It's all about logistics. It isn't inconceivable that UPS will deliver groceries from your local Whole Foods store in Amazon specialized packaging similar to Stop & Shop Peapod.  Or, a grocery bag carrying drone landing on the Amazon mark in your driveway. Why not?  Amazon already leases 20 Boeing 767 air cargo jets and added thousands of long haul trucks.
The Whole Foods purchase isn't only about food. It also adds 460 local distribution centers to the Amazon network. Similar to Fedex buying Kinko's, it puts them on the local map like never before. This will be interesting to watch the roll-out.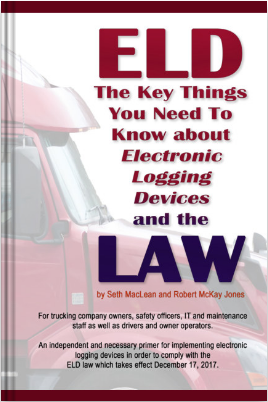 Independent guide to implementing electronic logging devices. Available in paperback or PDF instant Download
Nuts and Bolts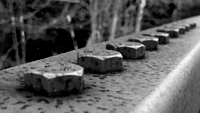 Some of us have become acclimated to using Google Chrome especially if we manage more than one computer. Chrome management of cookies and sign-ons spans devices. If you buy a new computer with Windows 10, the default browser is Microsoft Edge. With a new computer, it is not intuitive how to change the default browser. Here is how. Open Windows Settings. Click Microsoft Edge under Web Browser. Here is where you select Google Chrome. To change the settings in Chrome, click the 3 verticle dots on the top right. While you are at it, add multi-factor authentication to your Google Sign-in.
Robert McKay Jones
TRI
9 Waushacum Avenue
Sterling, Massachusetts 01564
Direct Line:
978-422-4324
rmj@trif.com