Welcome to News from trif.com! First time readers, I am glad you're here! Returning readers, welcome back!

I love to share the many photos I have taken of places, people and things throughout the country and beyond. Each month our headline photo will be something new and different. We hope you enjoy. Keep in mind, we don't want to waste your time. Articles will contain generally less than 250 words. Please have a look and give us your feedback. By all means, forward to a friend using the link at the bottom of the Newsletter. Thanks. Questions? Send me an email!
Did you know we provide...

Mobile Driver Apps
Real-time Updates
with Signature Capture

Creative Live
If you have an interest in learning about art, design, money, business, writing, marketing, photography or video,
Creative Live is a great place to start. This month of May, Creative Live is providing a great series, 30 Days of Genius. It is free just for signing up. In this free video series, CreativeLive Founder Chase Jarvis interviews 30 of the brightest creative and entrepreneurial minds of our time. They share their successes and failures, and turn them into actionable insights for you.
You decide who you would like advice from. Richard Branson, Arianna Huffington, Mark Cuban, Sir Mix-A-Lot, Seth Godin, Jared Leto, Marie Forleo, Gary Vaynerchuk, Levar Burton, Tim Ferriss, Daymond John, Ramit Sethi, Gabrielle Bernstein, James Altucher, Kelly Starrett, Lewis Howes, Tina Roth Eisenberg, Gretchen Rubin, Austin Kleon, Brandon Stanton, Sophia Amoruso, Brené Brown, Stefan Sagmeister, Adrian Grenier and others. The interviews thus far have been worthwhile.
Use this link to: https://www.creativelive.com/courses/30-days-genius-chase-jarvis
If you are interested in more in-depth learning, there are 1, 2 and 3 day seminars available that go into great depth on the subjects at hand. Great use of time if you are in bed with a cold or suffering through a cold and rainy day.
TRIF.COM
Technology Resources

Our capabilities bridge database design and development, Internet services, network and computer sales and support, document imaging, bar code scanning, corporate communications, fax and email programs, mobile applications, cloud computing and help desk services. Interested in taking a step forward with technology? Looking to take advantage of the latest advances? Or just want to take advantage of your new computer?

Email me at rmj@trif.com The first consultation is always without charge.
Hyperloop
Undergoing testing in the outskirts of Las Vegas, Hyperloop One had its first public demonstration last week where a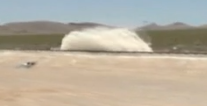 speed of 300mph was reached in seconds on a ½ mile test track seen here at left. Hyperloop is an imaginative tube transportation system that will carry passengers and presumably freight between cities at more than 750 miles an hour. Tesla founder Elon Musk envisioned this tube transport system back in 2013 and funding has come in from numerous international sources.
Hyperloop Transportation Technologies, Inc. , incorporated last October, claims "Traffic on freeways is getting more and more congested, while gasoline cost continues to skyrocket! Housing problems are plaguing nearly every major city. Air travel has only a slight advantage over driving, when traveling by car between cities that are within a four to six hour range of each other. Take off, landing and of course the incredibly time consuming process required by all airports prior to boarding, often takes up the majority of your travel time when commuting by plane."
They anticipate a commuter transport system providing 30 minute service between Los Angeles and San Francisco and suggest Hyperloop fills the void of high speed transportation services for under 600 mile travel such as Boston to New York or New York to Washington.
Update on OneDrive for Business
Last month, I suggested that Microsoft Office 365 OneDrive for Business looked to be a solid competitor to Dropbox. It has been reported Microsoft's cloud-first strategy with Office 365 means that OneDrive for Business will continue to have an aggressive road map into 2016. Microsoft has invested in better cross-platform support, including native Apps for Android and iOS, to close the feature gap with Windows clients. Microsoft continues to invest in global data centers to meet requirements for data sovereignty, including new data centers in Australia, Germany, and India. Security and governance controls are also areas of investment, with capabilities that can flag sensitive data or block sync on unmanaged desktop/laptops.
After piling more than 40gb of data into my OneDrive for Business folder and testing updates and system restarts, I believe that there is a solid improvement to the Dropbox application especially after boot up. Indexing files and initializing Dropbox takes considerably longer than OneDrive for Business. The competition between these two heavyweights is bound to create better solutions for us.