In the works since 2007, Harvard University, owner of the property used by CSX for inter-modal operations in Allston took back the property for a new complex for the School of Engineering and Applied Sciences. CSX moved its inter-modal operations to Westborough and Worcester. Pictured here is the CSX Inter-modal Terminal in Worcester after a $100 million dollar face lift and an expansion from 58 to 79 acres. Please see my online store. The store allows you to have my photographs custom printed and framed. Friend me on Facebook, look at my blogs, or look me up on Flickr. Store is now open. Check out my profile on ImageBrief! Click to Shop.
In This Issue
Welcome to News from trif.com! First time readers, I am glad you're here! Returning readers, welcome back!

I love to share the many photos I have taken of places, people and things throughout the country and beyond. Each month our headline photo will be something new and different. We hope you enjoy. Keep in mind, we don't want to waste your time. Articles will contain generally less than 250 words. Please have a look and give us your feedback. By all means, forward to a friend using the link at the bottom of the Newsletter. Thanks. Questions? Send me an email!
Did you know we provide...

Mobile Driver Apps
Real-time Updates
with Signature Capture

Busy Month for the DOT/FMCSA
The Federal Motor Carrier Safety Administration took action this past month. J and J Transportation of Belmont Street in Worcester owned by John Robles was declared to be an "imminent hazard to public safety" and ordered that it immediately cease all inter and intrastate operations. During a compliance review, the company was unable to provide vehicle maintenance records, drivers' inspection reports, hours of services records, medical examiner's certificates for drivers, fuel and toll receipts, pre-employment controlled substances tests.  This may not have surfaced had the company not been involved in a single vehicle crash killing the driver in December 2015.
Violating an imminent hazard out-of-service order and operating without operating authority and a USDOT number may result in civil penalties up to $60,000 as well as a criminal penalty, including a fine of up to $25,000 and imprisonment not to exceed one year.
In March, after a four-month investigation, the U.S. Department of Transportation's Federal Motor Carrier Safety Administration (FMCSA) revoked the operating authority registration of four commercial bus companies for intentionally provided a misleading and/or a false physical address as its principal place of business. Included is Magnum Coach Lines, LLC of Trapelo Road in Waltham, Mass. (USDOT 2489680). The company was recently organized by Valeria D Hillman-Walker of Georgia home to another bus company involved in the investigation. A motor carrier found to be operating without possessing valid USDOT operating authority may be liable for federal civil penalties of up to $25,000 for each violation. In the commercial transportation industry, it often means the companies are hiding from past offenses.
TRIF.COM
Technology Resources
Technology solutions are a part of doing business just like sales and marketing, It is an important component in servicing customers, managing costs and controlling operations.
Our capabilities bridge database design and development, Internet services, network and computer sales and support, document imaging, bar code scanning, corporate communications, fax and email programs, mobile applications, cloud computing and help desk services. Interested in taking a step forward with technology? Looking to take advantage of the latest advances? Or just want to take advantage of your new computer?

Email me at rmj@trif.com The first consultation is always without charge.
Office 365 Web Apps
Microsoft web applications (seen here in what is called the waffle) continue to grow and deserve another look. Not only are Word, Excel, Outlook and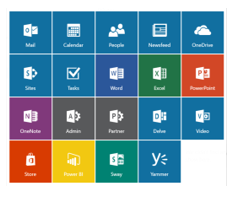 PowerPoint available in the cloud, but now there is OneNote, Sway, Yammer, Sharepoint, Delve, Skype for Business and Power Bi all built around Microsoft cloud services and OneDrive integration. The greatest benefit to having all these Apps is they are available on your desktop, tablet or mobile device.
It does take some time to learn and make use of these applications, but in a few cases, it is really worth the effort. The most powerful and useful of these cloud tools is Microsoft OneNote. This tool can be used to take notes in a meeting or to compile documents, including emails, photos, videos, PDF's, Word files, and web reference material captured in a browser and placed into an organized folder with titled pages. OneNote is a great tool to hold information about a planned trip, a research project, a class for school, rolling out a new service or product or a project. The over riding benefit to using any of these Apps is that they are available anywhere you are.
Office Web Apps are an Office 365 tool available with an E3 license. If you aren't an E3 Office 365 subscriber, get your trial here.
Using OneDrive for Business
It was time to take another look at OneDrive for Business. I have not been a proponent for using this tool because it was difficult and convoluted. But now, those with an Enterprise (E3) Office 365 license will receive 1 terabyte (soon to be 5 tb of space according to Microsoft's Office 365 Team Blog). So I needed to test it out. I set out to copy 4,857 image files totaling 11gb of space to the cloud - OneDrive for Business. At first I used Google Chrome, but that crashed twice. Then I used windows 7 Internet Explorer and started the copy. That crashed. So then... read on.
They have also updated their Sync client. According to Microsoft; "After a successful preview program, we are happy to report that the OneDrive for Business Next Generation Sync Client is now available for deployment. Our top priorities for this release were improved reliability and performance, as well as delivering core capabilities such as selective sync, support for large files up to 10 GB in size and removing the 20,000 file sync limit.". I have tested this out and can report that I successfully synced 8gb of files in just a few hours. And another 2.4gb in an hour. It works! Also, the online interface for OneDrive for Business is hands down nicer and more intuitive than Dropbox which hasn't changed in years.
This upcoming month, I will analyze the resources and impact on work flow comparing Dropbox with OneDrive for Business. Dropbox has always been a resource hog when starting and when syncing. As expected, OneDrive for Business seems to integrate with Windows with less impact on the user. If that proves out, that is very significant. I'll report back next month.
OneDrive for Business is an Office 365 tool available with an E3 license. If you aren't an E3 Office 365 subscriber, get your trial here.
Nuts and Bolts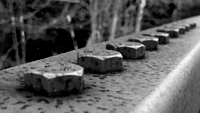 Do you send emails to the same group of people all the time? Save yourself some time and create a Contact Group in Outlook. Click on the Address Book item in your Home Ribbon. In address book, click File, New Entry. Select New Contract Group. Give it a name and then add people to the group. You can have a group of two people or more than 100. Next time you send a message to the group, just type the group name instead of all the members' email addresses. 
Robert McKay Jones
TRI
9 Waushacum Avenue
Sterling, Massachusetts 01564
Direct Line:
978-422-4324
rmj@trif.com