This is an iPhone 6 panorama converted to black and white in Photoshop. I love the drama that black & white brings to a photo. This is an undeveloped area in the Naples Botanical Gardens, Naples, Florida. At the time this photo was taken, a dinosaur exhibit was being presented with moving T-Rex and roaring sound and tar pits. Turning this otherwise beautiful and warm day into black and white allowed me to produce what might be construed as a tar pit where there was none. You can see the full image here. Friend me on Facebook, look at my blogs, or look me up on Flickr.
In This Issue
Welcome to News from trif.com! First time readers, I am glad you're here! Returning readers, welcome back!

Greetings and welcome to our Newsletter! I want to share the many photos I have taken of places, people and things throughout the country and beyond. Each month our headline photo will be something new and different. The caption will present a small explanation. We hope you enjoy. Keep in mind, we don't want to waste your time. Articles will contain generally less than 250 words. Please have a look and give us your feedback. By all means, forward to a friend using the link at the bottom of the Newsletter. Thanks. Questions? Send me an email!
Did you know we provide...
HubSpot Integration?

Mobile Web Apps?

Flying
Lately, it seems the airlines in their quest to run 110% full are squeezing patrons to the breaking point. On trips under 1,500 miles, it is making more sense to drive than fly. Less costly, more fun, less headaches and stress. Sad to say, unless you live in a major hub, direct flights are becoming very difficult to find. Boston is not a major hub.
I recently spent hours booking air travel to Cabo San Lucas in Baja, Mexico. This was not my first time booking flights online, I have done it many times. It is just harder these days. In order to fly to Cabo from Boston, a low cost option was to fly to Mexico City and lay over for 17 hours. Really?
Although the options are still pretty awful, I came across SkyScanner a web site, iPhone App and Android App. You can use Skyscanner to check for flights (and cars and hotels). The list of airlines scanned is extensive and seems to only omit Southwest which doesn't participate in any online booking sites other than its own. Using the App and changing departure and return dates was easy. It is very helpful to quickly see all the options available.
When you book your own flights, here are some ideas for you to consider. Search often and over a period of time. Get the Twitter feed from airwatchdog. Make sure you check Expedia, Travelocity and Orbitz, but also check American Express Travel (especially if you have points), SkyScanner and Southwest and check airline sites directly. Leave yourself open to traveling on off days. For example, flying on a Monday or Tuesday is often less than a Saturday or a Sunday. Good information can save hundreds of dollars.
TRIF.COM
Technology Resources
Technology solutions are a part of doing business just like sales and marketing, It is an important component in servicing customers, managing costs and controlling operations. Our capabilities bridge database design and development, Internet services, network and computer sales and support, document imaging, bar code scanning, corporate communications, fax and email programs, mobile applications, cloud computing and help desk services. Interested in taking a step forward with technology? Looking to take advantage of the latest advances? Or just want to take advantage of your new computer?

Email me at rmj@trif.com The first consultation is always without charge.
Corporate Value and the Just Index
A Ted Talks first introduced me to the Just Index, but I have done a good deal of reading since. Paul Tudor Jones, founder of the Tudor Group (manage hedge funds) has started Just Capital. He stated that the widening gap between the richest and the poorest will get closed, somehow history always handles the gap, usually by revolution, war or higher taxation. He proposes to find another solution, a solution based on market forces rather than political uprising or bloodshed. His idea is the Just Index. His proposal, survey 20,000 Americans on the parameters of value beyond earnings per share, that is the value to all stakeholders, and then rank the top 1,000 companies performance. We should see the results next year.
It is a concept not dissimilar to the efforts put forth by Conscious Capitalism which believes that companies should focus not just on shareholders, but on the entire value of the business including customers, community, suppliers, employees and environment.
His board members include the likes of Arianna Huffington, Deepak Chopra and Jennifer McCrea. His intention seems sincere, evaluating businesses on their long-term contribution to society rather than just the short-term benefit to share-holders.
Financial Times reports that the market is trying to also adjust by implementing evaluations in accordance with the Global Sustainable Investment Alliance which is an alliance of investment organizations dedicated to integrating the value of sustainability of the business and the environment into the over-all value of corporate worthiness. The valuations are defined as environmental, social, and governance (ESG). Bloomberg reports ESG data on10,500 companies world wide.
Another indication that value to society is becoming more important can be seen looking at the Shared Value Initiative. As stated in their website, the Shared Value framework (originally described by Professor Michael E. Porter and Mark R. Kramer in a Harvard Business Review article) defined a new role for business in society to advance social progress and deliver social impact.
These programs all look at the roll of business in our society. For more in depth reading on the changing role of businesses in our society, read this report produced for the Clinton Global Initiative. Is there cause for optimism?
Is It Time For a Software Review?
At what point do you consider having functional portions of your software re-written? The answer is different for everyone, but it usually stems from looking at these factors:

Communication

Ease of integrating operational data with customers and vendors
Better use of automating tools like email, file sharing, web portals
Implementation of customer relationship management techniques to improve customer information
Benefits of going mobile
Voice over IP integration

Technical

Advances in display screens as well as the use of multiple displays
Use of headsets

Business Intelligence

Looking at the bigger picture
Tracking customer utilization
Creating a Corporate Dashboard
As with all things, software is designed in light of the technology of the times. As times change, software enhancements can harness advances in technology and communication improving operations, customer service and profitability. Only you can know if it is the right time to think about exploiting these improvements. Send an email if you would like to have a conversation.
Nuts and Bolts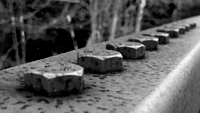 Camera users: For those of us lacking perfect vision, setting your diopter on your camera may make the difference between a clear shot and an out of focus shot if you ever focus manually. 98% of the time when you see blurry but the results are great when using auto focus it means your camera's diopter is not adjusted for your eye. Here is how to set it on a 35mm camera. Have the camera focus on a scene at infinity, then rotating the diopter all the way on the plus + side, rotate back till the scene is as clear as possible.
Robert McKay Jones
TRI
9 Waushacum Avenue
Sterling, Massachusetts 01564
978-422-7770
rmj@trif.com