Microsoft OneNote
I thought I had reviewed Microsoft OneNote before but it seems I have not. Shame on me! Microsoft OneNote is a quiet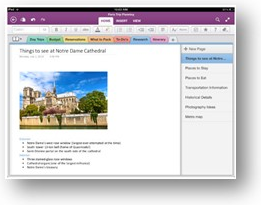 little powerhouse of an application. Think of it as an incredible personal assistant organizing every aspect of your life. Office 365 users have this application at your fingertips.
So what is it? It is an enormous file cabinet, the contents of which are safely synchronized to the cloud and accessible using your office desktop, home desktop, laptop, Windows or MAC, iPad or iPhone.
The file cabinet is filled with Notebooks containing colored folders, the tabs of which are displayed for quick access. Within the folders are pages, subpages and sub-subpages. Within a page can be a year's worth of emails, contract documents or memos, links to web references, attached spreadsheet, a Visio diagram, screen-shots, pictures, recorded audio notes and even video clips.
It works with scanners, news readers, livescribe smartpens, Office Lens, OneNote Clipper, Feedly and more! Share a Notebook with employees, collaborators or partners. Mutually make modifications to folders or pages and OneNote will not only synchronize those changes but maintain a history of revisions as well.
Integrate Outlook with OneNote and you are able to link between a calendar item, like a meeting, to the notes you took in that meeting. Once the connection is made, synchronization between OneNote and Outlook allows you to flip back and forth between event and the notes for the event. A great use is to email OneNote pages directly from OneNote to participants of a meeting.
OneNote is one of those tools that is so powerful, most users will only use a tiny sliver. Let us know if you would like to really implement OneNote. At a minimum, take some time and watch some Youtube videos.