Thank You for Your Service
I recently read Thank You For Your Service as a result of an interview with the Author, David Finkel. I was so moved and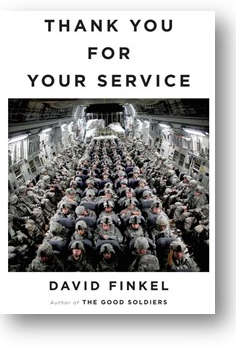 literally brought to tears in the first two chapters that I needed to share it with you. Yes, sadly, I admit, I have been one of the millions of Americans that tend to ignore the wars in Iraq and Afghanistan. That doesn't mean that I don't appreciate the troops, respect their bravery and honor their service, I certainly do. I recognize that getting sent back a 3rd, 4th or 5th time to serve yet another tour of duty is beyond comprehension and more than any man or woman deserves.

But it never hit me - I mean really hit me, until I read this book. The impact these wars have had on the 2 million men and women who have been sent in harms way, the toll they take, the innocence they lose, it is unforgivable. Nearly 500,000 have returned with post-traumatic-stress-disorder (PTSD) an invisible disease that destroys men, woman and families.
There is no bright light at the end of this tunnel. There won't be until all our men and women return home and begin to heal. A process which is so excruciating that it is difficult to imagine. The guilt that these brave men and women live with upon returning home is unbearable. The delays our system has created in providing support is unforgivable. I think about what we are doing, why we are doing it and when we might stop the cycle.
I urge you to take the time to read this book. At a minimum, spend some time with Warrior Writers and see what some of these brave warriors have written. Warrior Writers is an opportunity for veterans to communicate their feelings, not just for their own healing process but for us as well. Order a book or support an author on this site to support their efforts.
If there is something you can do over the Holidays, make a contribution to one of these organizations.: