The Moon
On April 25th, 2013 I had the chance to visit Joshua Tree National Park with my tripod and my camera. Not knowing a lot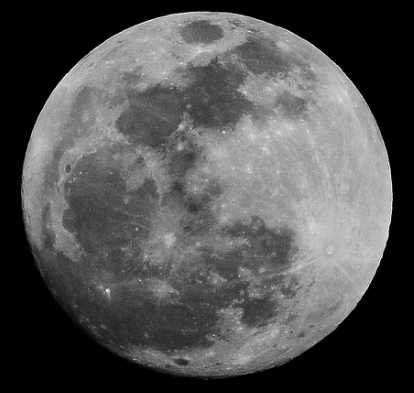 about what I was doing but having some great help from my brothers, we all set out to shoot the moon. I tried various automatic settings which failed to capture anything but a white light in the sky. I tried aperture priority which didn't seem to work. I played with my ISO settings and the higher I set them, the worse things got. I then settled in on shutter priority so I could choose how long the shutter would remain open. As with high ISO settings, I found the longer I let the shutter stay open, the whiter the moon got and the blurrier it became. Truth be told, it is a moving object. But, it started making sense. With my zoom all the way out to 300mm, I started reducing the length of time the shutter remained open.  By 10:30pm, I set the shutter speed down to 1/640th of a second with a low ISO of 200 and f/5.6, these settings seemed to give me the best results. I was able to get the definition of the craters that I had been looking for. I was pleased.

Click on the picture and you can see the original cropped version.
My camera is a Nikon D7100 24 mega-pixel camera with a 18-300 f3.5-5.6 lens. And again last week, I was able to catch the moon - or at least half of it on a clear night in Bonita Springs, FL. Again 1/640th of a second shutter speed at f/6.3, but this time ISO was set to 3200. I was again able to capture the craters clearly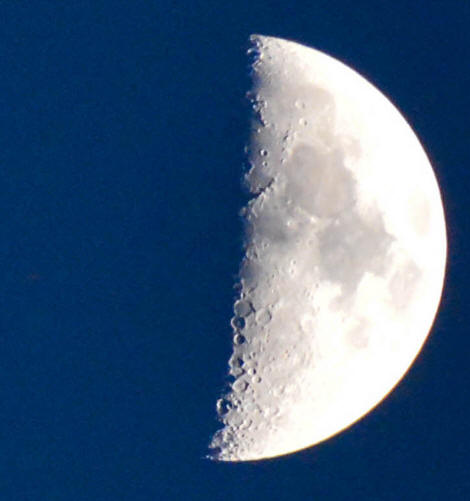 especially along the edges. You will note that the sky was still light. This picture was taken shortly after sunset around 8:25pm.
The moon is really fascinating. It is said that if it were not for the moon and the global changes in tides, that life may never have been possible on earth. Although I have never been a follower of astrology, the moon governs the zodiac sign of Cancer. Is it a coincidence that I am a cancer?
And not only does the moon circle the earth, but it also rotates. However, rotations match its orbit, so even though it rotates, it always shows us the same face.