Microsoft Surface
At first glance, the Surface is a sleek wide-screen (16:9) high resolution tablet with super crisp display. It has a magnesium stand (the entire device is magnesium clad) that clicks out from the back side and a sleek keyboard cover that snaps into place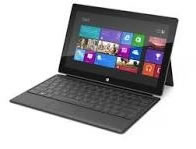 magnetically into place making it look more like a laptop than a tablet. It starts quickly and easily with Windows 8 Pro which I will talk about in the next section. IT has a USB port (awesome) and a Micro SD memory card slot. It also has an earphone jack and an interesting magnetic connector for power or pen. The USB port is wonderful because you can connect a mouse or normal keyboard or a USB Hub so you can connect multiple USB devices. Being able to use a mouse and full keyboard makes seem like a laptop or desktop.
Mine came with 64gb of disk solid-state space (because the 128gb model was out of stock). After I installed a full version of Office 2010, I was left with a mere 20gb of space. Not a lot of space! That said, with the use of cloud computing options like Microsoft Skydrive, Yahoo Flickr, Dropbox, Vimeo, Facebook, and others, most of my data is in the cloud so the space required is really used on programs.
There are two choices in keypads available. A touch and a type. The touch is a slim 3mm thick with embossed keys that are touch sensitive. The type keyboard is more like a normal keyboard. I like both very much although it takes a short time to get used to the touch version.
The Microsoft Surface has a Corning Gorilla Glass 2 screen which makes it nearly impervious to scratches or cracking.
All things considered, I love the design, clarity and Windows of the new Surface! I also love that it is a Windows device with all the features of my desktop. Things I use everyday like Outlook, OneNote, Excel, a Mouse and a keyboard!