Voice Over IP - VoIP
For a while now, I have been talking to people about the service that we use for hosted telephone, voice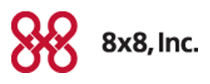 and fax. We use 8x8, Inc. It is one of the highest rated voice over IP services available and provides some great features.
They provide telephone service over the Internet. It makes no difference who provides you Internet access, 8x8 will test and determine if your Internet connection is capable of handling voice over IP. With VoIP through 8x8, you are connected with your virtual office no matter where you are. You can run an 8x8 App on your iPhone or iPad and turn it into a phone using WiFi. You can have your office phone ring through to your Mobile. You can Fax from anywhere. You get immediate playable messages emailed to you whenever a message is received.
With all the services you would expect with telephone service you are also provided conference calling, online telephone and computer meetings, video conferencing, call recording, wireless headsets and web access to your virtual office and configuration. There are no big systems to be installed. No PBX. No special wiring. All you need are 8x8 phones connected to the Internet with your standard Cat5 cable just like a computer.
Take a look at their services at 8x8.com. Let us know if you would like more information and by all means, don't be too quick to sign a contract, you may be buying more services than you really need.
If any of the information here is of interest to you, please drop us a note. If you would like to see specific information on technology issues that affect you and your business, please let us know.