Boston Harborwalk
It has been years since I spent any time along the waterfront in South Boston especially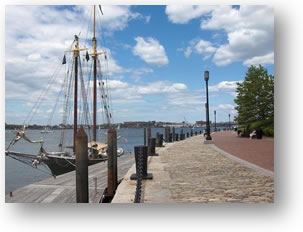 around Northern Avenue. Decades ago, in a prior life, I worked on the Army Base on Summer Street and ate at Jimmy's Harborside and Jimbo's with some frequency. It was a run-down area with refrigerated trucks racing up and down the beat up cobblestone road. The Army Base is gone or transformed I should say (now Black Falcon Cruise Terminal and the Boston Design Center) and the whole area is now a wonderful attraction. From Fan Pier to the Boston Marine Industrial Park and on to Castle Island -- it is yet another shining star of Boston.
The Harborwalk of Boston, with nearly 39 miles of public access walkways (now open) is a beautiful place to spend the sunny days of summer. Eventually, 47 miles will be open to the public from Deer Island to East Boston, around Charlestown, Downtown Boston and on to South Boston and Dorchester. Filled with parks, pavilions, boardwalks, docks, shopping, cafe's, restaurants, entertainment and a glorious view, it is a wonderful walk.
Take a 45 minute harbor cruise from Long Wharf and you can be dropped off in Charlestown and walk back or catch the next boat, as you wish. Enjoy this summer! Spend some time in Boston. It is honestly one of the very best cities in America. For more information, here are a couple of links of interest for the Boston Harbor Walk and The Boston Harbor Association. Have fun!