The List
TRI has been providing technology services and creating software for 30 years. We have created hundreds of unique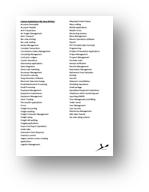 applications spanning a wide range of business. We thought it was time to start creating a list. So we went through the archives and began to prepare a list of applications we have written, services we provide, software we use, data formats we know, data parsing and data exchange we provide and technology we support.
Click the image at left and look for yourself. We have really accomplished and developed a great deal over the years. One of our problems is, we have probably forgotten half of the things we have done. So as we remember, we will update the list.
We hope that this becomes a memory jog for some of you. You never know how connections are made till you hit on an idea, a thought, a memory. It is all rather serendipitous.