Sync Photos without iTunes via WiFi
If you are like me, you take a lot of pictures with your phone, camera and other devices and often want to combine on your iPad.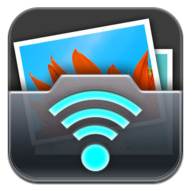 You usually place your pictures in your iTunes folders so iTunes can see them and when you sync your device, your pictures will update to your device and vice versa. Well that can often be more work than its worth. So usually, I just forget it. The problem also occurs if you have a large video you want to move to your iPad. Without iTunes, it is really difficult. Unless you download an App for $1.99 called PhotoSync. It will work on your iPhone or iPad. It has a free runtime for your PC or your MAC.
Here is the great thing. It really works. I had a 350mb video that I wanted to play on my iPad. I was at the office which is not where I synch my iPad with iTunes. I installed the PhotSync App and downloaded the runtime on my PC. After I ran the PhotoSync tool on my PC, it created a drop window for me to drop files that I wanted on my iPad. I dropped the 350mb video and within a few minutes, I was viewing the movie on my iPad.
It is a pleasure to use tools that really work. Give it a try and let us know what you think.